November 10, 2021
College of Veterinary Medicine appoints Renberg for Doughman professorship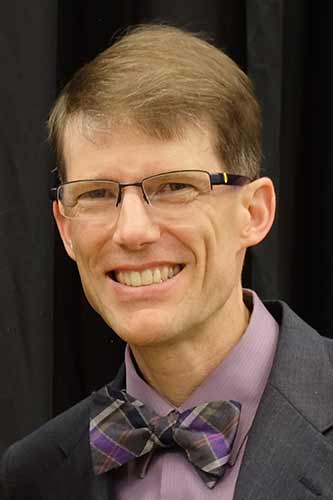 Walter Renberg, professor and section head for small animal surgery in the clinical sciences department, has been chosen as the new holder of the Roy and Lucille M. Doughman Professorship.
The recipient of this professorship must be a faculty member in the College of Veterinary Medicine in the field of small animal surgery.
Renberg teaches Topics in Global Veterinary Medicine for second- and third-year veterinary students, Veterinary Surgery I for third-year students, Clinical Small Animal Orthopedic Surgery for fourth-year students and Advanced Topics in Small Animal Surgery for graduate students. He also teaches International Veterinary Study Tours first- and second-year students. He has taught at K-State for 23 years.
Renberg earned his Doctor of Veterinary Medicine from Oklahoma State University in 1992. He held internships at Mississippi State University and Affiliated Veterinary Specialists, Orlando, Florida. He performed his small animal surgery residency at Virginia Tech, where he also earned a master's degree.
Renberg has experience evaluating experimental models of OA development as well as the diagnosis of early hip dysplasia. Additionally, Renberg has been involved in several studies evaluating treatments for arthritis and control of pain. These studies have led to experience using force plate evaluations. Renberg has mentored House Officers in projects involving biomechanics and fracture healing.
Renberg also serves as the director of international programs for the College of Veterinary Medicine. He advises the International Veterinary Student Association chapter at K-State and has published articles on international veterinary medicine. Additionally, Renberg works extensively with the Christian Veterinary Mission and has experience with development work in many countries.
"Endowed professorships allow the college to reward and retain talented faculty in key positions," Dean Bonnie Rush said. "Renberg has demonstrated excellence in mission-critical areas — graduate and professional education, clinical service and research."
In addition to this newly appointed professorship, nine other faculty in the College of Veterinary Medicine currently hold endowed professorships or chaired positions:
Robert Larson — The Edgar E. and M. Elizabeth Coleman Chair
Mike Sanderson — The W.S. and E.C. Jones Departmental Chair of Clinical Epidemiology
Kenneth Harkin — Steven and Colleen Hodes Professorship in Veterinary Medicine
David Renter — Dr. Robert MacDonald Professorship in Veterinary Medicine
Derek Mosier — Dr. Roy Walter Upham Endowed Professorship
Michael Apley — The Edwin J. Frick Chair
Thomas Schermerhorn — Morgan K. "Al" Jarvis Chair in Veterinary Medicine
Ellyn Mulcahy — James B. Nichols Master of Public Health Professorship
Mary Bagladi-Swanson — Pet Tribute Professorship