October 15, 2021
KS-LSAMP Conference 2021: Registration open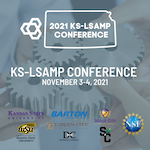 The Kansas Louis Stokes Alliance for Minority Participation, or KS-LSAMP, program will host the first KS-LSAMP Conference on Nov. 3-4. Undergraduate students are invited to join in-person sessions on Nov. 4.
Students will be able to engage with current college students and recent college graduates, learn about summer research opportunities, and discuss career and leadership opportunities. This conference is open to all students who are interested, regardless of prior engagement with the KS-LSAMP program.
The conference program and registration information can be found on the conference website.

Registration for the KS-LSAMP Conference is free and open until Oct. 25. Lunch will be provided for a limited number of students who attend the lunch session — registration required for lunch. Students who register and attend a portion of the conference will be entered into a raffle to win various prizes — including gift cards and K-State gear.
The KS-LSAMP program provides enrichment and community-building activities, mentorship opportunities and assistance to diverse and historically underrepresented students currently enrolled at Kansas State University. Additionally, the program serves students enrolled at five Kansas community colleges who intend to transfer to K-State to complete a bachelor's degree in science, technology engineering, or mathematics.