September 9, 2021
Join Alpha Chi Sigma co-ed chemistry fraternity, events this week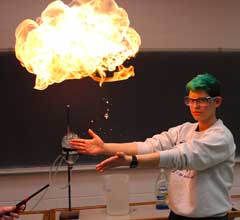 Alpha Chi Sigma, or AXΣ, is a professional, co-educational, student-led fraternity for those with an interest or major in chemistry. Alpha Chi Sigma is a registered independent student organization.
Being a professional fraternity, AXΣ functions more as a club. What that means is you can join AXΣ even if you are a member of another fraternity or sorority. AXΣ at K-State has men and women from the departments all over campus, including engineering, business, chemistry, biology, agriculture and many more.
AXΣ provides you with the opportunity to network with your peers, professors and industry professionals.
If you are interested in learning more about the fraternity and its members, we are also hosting free, fun, informal, come-and-go as you please social events:
Bowling at the K-State Student Union, 5-8 p.m. Thursday, September 9.
Bob Ross Painting at the Wildcat Chamber in the Union, 5-8 p.m. Friday, Sept. 10.
Visit the website for more information.
Opportunities of AXΣ include:
Community: Are you looking for a community of like-minded individuals? Do wish you knew more people with similar majors? College can be a daunting place when trying to meet new people. In AXΣ, you can find that community. As well as being a professional club, we also put on tons of casual events to foster relationships between our members, such as Bob Ross painting parties, IHOP runs, movie nights, watch parties and camping trips.
Support network: Being a member of AXΣ connects you to a support network of past and present members. Be that tutoring or a suggestion of a job opportunity, we do what we can to help each other.
Networking: AXΣ hosts events where members can meet faculty and form professional connections.
Performing demonstration shows for local schools: Our fraternity offers a service to local schools and other groups where we put on "magic shows." These shows use chemistry to perform a variety of tricks and cool visuals to get kids interested in chemistry.
Leadership: With 13 different officer positions, there are tons of opportunities to exercise leadership and bolster your resume.
Trips: As a member, you are offered the opportunity to go on trips. These trips are usually paid in full by the fraternity.