Grammy-winning singer/songwriter Boz Scaggs to appear with McCain Performance Series
Thursday, Sept. 9, 2021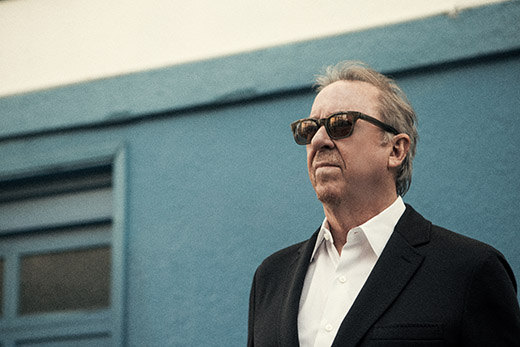 Singer, songwriter and guitarist Boz Scaggs will perform at Kansas State University's McCain Auditorium on Sept. 30. Tickets are on sale now. | Download this photo.
MANHATTAN — McCain Performance Series at Kansas State University continues its star-studded lineup with Boz Scaggs at 7:30 p.m. Thursday, Sept. 30, in McCain Auditorium.

Scaggs, an American singer, songwriter and guitarist, is on the road supporting his new album "Out of the Blues" since the blues is what first sparked his five-decade musical career. He is known for his albums of the late 1970s as well as the songs "Lido Shuffle" and the Grammy Award-winning "Lowdown" from the critically acclaimed album "Silk Degrees"  in 1976, which peaked at No. 2 on the Billboard  200. With an extensive and distinctive career that has spanned 30 years and received many accolades, Scaggs continues to prove himself as one of music's most creative and original artists.

"Music has been a constant companion and I'm feeling more free with it than ever," Scaggs said. "I feel like I've found my voice through all these years, and I've gotten closer to where I want to be with my approach."
Tickets are available online at mccain.k-state.edu or at the Ticket Services Office in the newly expanded McCain lobby from noon to 4 p.m. Wednesdays through Fridays. Tickets are available by phone, 785-532-6428, during the same hours. Kids 18 and under get 50% off the general price of admission.

All K-State students are eligible to receive one free ticket per McCain Performance Series show until the funding for this program is exhausted. Free tickets for students are supported by the K-State student services fee up to the funding cap. Current K-State student IDs are required when obtaining a ticket from the McCain Ticket Services Office. Current K-State student IDs are also required when presenting the ticket upon entering a show. There is a limit of one ticket per current K-State ID per show while supplies last. Free student tickets are available only at the Ticket Services Office and are not currently available by phone or online. Global Campus students are not eligible.

McCain Auditorium will follow K-State's policies for COVID-19 health and safety procedures. The university has implemented a temporary face mask requirement. The requirement will be rescinded when Riley County is no longer designated a high or substantial transmission area per the Centers for Disease Control and Prevention. Everyone must wear a face mask over their mouth and nose while inside McCain Auditorium. If a patron is seen not complying with this policy, they will be asked to wear a mask, ensuring it covers the mouth and nose. If an individual does not comply with the request to properly wear a mask, the individual will be escorted from the premises and tickets will not be refunded. For more information on K-State's policies, please visit k-state.edu/covid-19.

For the 2021-2022 season, and due to the uncertainties surrounding COVID-19, if a patron wishes to not attend a show for any reason, the patron can ask for a refund or a credit to their account up to 30 minutes before showtime. As stated above, however, individuals in physical attendance at McCain Auditorium not complying with the mask requirement will not be issued refunds.
For more information, email mccain@k-state.edu.