May 5, 2021
Health and Human Sciences dean to be next provost at Boise State
Submitted by Communications and Marketing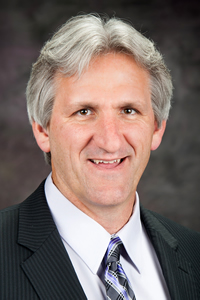 John Buckwalter, the Betty L. Tointon dean of the College of Health and Human Sciences, is leaving Kansas State University to become the next provost and vice president of academic affairs at Boise State University. Buckwalter will begin his new position in July.

"John Buckwalter has been a visionary dean who found innovative ways to move his college and our university forward," said Chuck Taber, provost and executive vice president. "We are thankful for his service to our university and know his leadership skills will be a tremendous asset in his new role."

Since becoming dean of the College of Health and Human Sciences in 2013, Buckwalter has been committed to promoting a culture of excellence within the college and creating an environment where students can access transformational educational experiences. Significant new degree programs at both the undergraduate and graduate levels have been added under Buckwalter's leadership, including the pending physician assistant program, a satellite nursing program with Wichita State University and three bachelor's programs in public health, integrative physiology and sports nutrition.

In 2018, Buckwalter became the holder of only the second-named deanship at K-State when he was named the Betty L. Tointon dean of the College of Health and Human Sciences.

"It has been an honor of a lifetime to serve as the dean of the College of Health and Human Sciences," Buckwalter said. "Kansas State University will always be a special place to me. All three of my children have degrees from K-State and Amalia and I have made lifelong friends here."

Buckwalter's many professional accomplishments include serving as chair of the Association of Public and Land-Grant Universities' Board on Human Sciences and being named a fellow of the American Physiological Society and the American College of Sports Medicine.

Before joining K-State in 2013, Buckwalter spent six years at the University of Texas, Arlington as chair of the kinesiology department and then as the associate dean for research and graduate studies in the College of Education and Health Professions. He also spent 12 years at the Medical College of Wisconsin as a faculty member in the department of anesthesiology. He earned a bachelor's in Spanish at Centenary College in Shreveport, Louisiana, and a master's and a doctorate in kinesiology from the University of Arkansas, Fayetteville.

Details on an internal search for an interim dean of the College of Health and Human Sciences will be announced soon and a national search will be conducted for Buckwalter's replacement.

Read the Boise State announcement here.