May 5, 2021
BRI director ranks in Top 100 Scientific Reports papers
Submitted by Office of the Vice President for Research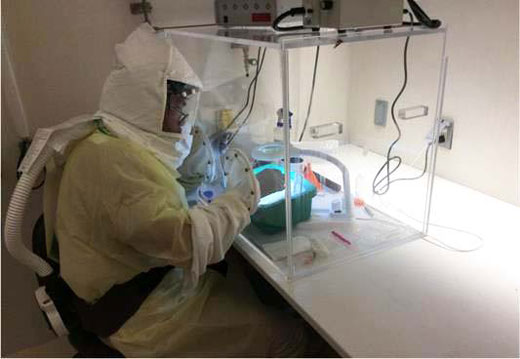 A study at the Kansas State University Biosecurity Research Institute is the first to confirm that SARS-CoV-2 cannot be transmitted to people by mosquitoes. The study is one of the Top 100 articles published by Nature Scientific Reports.
A paper co-authored by Stephen Higgs, associate vice president for research and director of the Biosecurity Research Institute, or BRI, and published in Nature Scientific Reports has placed in the Top 100 downloaded research papers in 2020.
The article, titled "SARS-CoV-2 failure to infect or replicate in mosquitoes: an extreme challenge," received 20,379 article downloads in 2020. Nature Scientific Reports published more than 21,000 papers in 2020.
Higgs' research, covered in the paper, demonstrates that even under extreme conditions, the SARS-CoV-2 virus is unable to replicate in mosquitoes and therefore cannot be spread to humans even in the unlikely event that a mosquito fed upon an infected host.
"We thought that our publication, which was the first to show that SARS-CoV-2 did not infect mosquitoes, would get a lot of attention, but being in the Top 100 of more than 21,000 Nature Scientific Reports papers published last year is just amazing," Higgs said.
A news release from the university received similar attention.
"The K-State news release about this publication has appeared in more than 600 news outlets in 42 countries and has been translated into 18 different languages," said Beth Montelone, interim vice president for research. "If this were a paid advertisement, we estimate that it would have cost $18.7 million! Great publicity for research done at K-State's BRI."
The full list of Nature Scientific Reports 100 most downloaded articles can be found online.
Check out the K-State Global Food Systems "Something to Chew On" podcast to learn more about Higgs and his research.