May 5, 2021
Kappa Tau Alpha journalism and mass communications honor society inducts inaugural class at K-State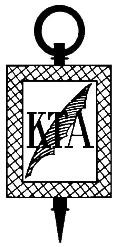 The national honor society for Journalism and Mass Communications, Kappa Tau Alpha, has come to Kansas State University, finding a new home in the A.Q. Miller School of Journalism and Mass Communications in Kedzie Hall. Kappa Tau Alpha is the seventh-oldest honor society in America and membership is by invitation only.
Graduating seniors and master's students must rank in the upper 10 percent of their graduating journalism/mass communication class to earn an invitation to join as lifelong members.
Inaugural inducted students include, in alphabetical order, undergraduate students Sierra Nicole Alley, Kathryn Hurd, Abby Lacy, Kylie Ledford, Natalie Leonard and Connor Stark, along with master's students Barikisu Issaka, Ryan Urban and Allison Zablocky. At the induction ceremony, which was held via Zoom on April 30, Kappa Tau Alpha also initiated its first faculty member. Assistant Professor Dani LaGree was recognized for her commitment to teaching, research and the profession.
The 111-year-old honor society founded its 99th Chapter at K-State this year, which was named in honor of Louise Benjamin, former Ross Beach Chair in mass communications and associate dean for academic affairs in the College of Arts and Sciences.