March 30, 2021
Sciences, humanities, history and philosophy connections to be discussed on April 1 at Art and Math Seminar
Submitted by Natalia Rozhkovskaya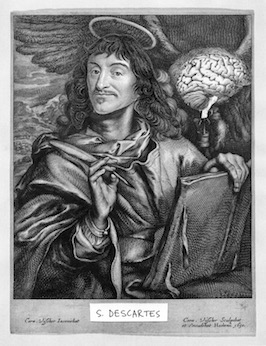 From noon to 1 p.m. CDT April 1, the Art and Math Seminar will feature a virtual talk "The Gospel of René Descartes" by Rebecca Blocksome.
Blocksome is an artist and cultural theorist, teaching philosophy and cultural studies at the Kansas City Art Institute. Her research interests include European intellectual history and the interrelationships of the arts, sciences, humanities and social sciences. Currently, her artistic practice is dedicated to illustrating the "Scientistic Scriptures" book series — a large-scale endeavor to map the history of science and mathematics onto biblical narratives. The project is realized in conjunction with Mag. Augustina Comte.
Registration is required to participate in this seminar.
The online seminar is organized by the mathematics department at K-State in cooperation with the Marianna Kistler Beach Museum of Art. The complete seminar schedule and more details on the series are available online.