March 18, 2021
Interior architecture & industrial design graduate students represent K-State at national conference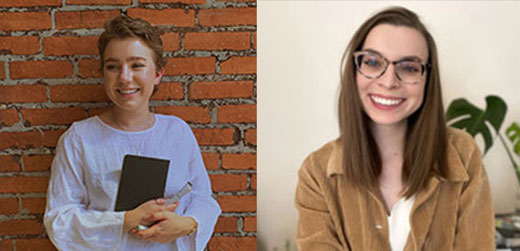 Jacquelynn Ruwwe, left, and Robyn Fritze.
Graduate students from the interior architecture & industrial design department from the College of Architecture, Planning & Design attended the Interior Design Educators Council annual conference, March 1-5.
Held since 1963 by the council, the conference is a platform for more than 300 interior design educators, practitioners and graduate students to meet and disseminate research on current topics related to interior design teaching and learning as well as professional practice.
Two students in the department were chosen to present their research.
Jacquelynn Ruwwe, a fifth-year graduate student, St. Joseph, Missouri, presented "Defining the Post-COVID Restaurant Interior with an Adaptable Design Mindset." This research focused on the paradigm shift that is being experienced in restaurant interiors and functionality following the recent impact of COVID-19 pandemic. Nine restaurant owners and managers of local, regional and metropolitan businesses were extensively interviewed during the process and the in-depth analysis was translated to a 17-item design guideline for post-COVID restaurants.
Robyn Fritze, a fifth-year graduate student, Andover, presented "A Guideline for Designing Environments for Mental Restoration With Natural World Blend." This research investigated the optimal ways to integrate natural world elements into college interior spaces to help students manage their stress levels and improve the state of their mental wellbeing. Based on attention restoration and stress reduction theories, a 66-question visual preference survey was developed. According to the responses of 86 participants, a seven-item guideline for creating a natural world blend in college interiors was devised.
"Both Jacquelynn and Robyn presented their research with professionalism and reassurance, a staunch reflection of their design education at the College of Architecture, Planning & Design," said assistant professor Kutay Güler, major professor for the students. "They received a lot of curious questions as well as positive comments on their research. We are currently working to extend and publish both research works in high-impact academic journals."