March 1, 2021
K-State Proud Week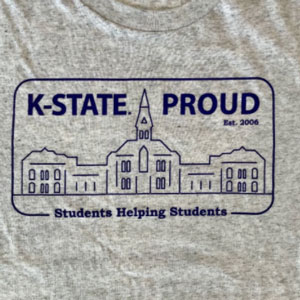 March 1-5 is K-State Proud week. Over the last 15 years, K-State Proud, the largest student-run philanthropy at the university, has raised more than $1.6 million to award needs-based scholarships known as Student Opportunity Awards to students who are suffering from an unforeseen financial circumstance and are in danger of leaving K-State.
Fellow students, as well as K-State faculty and staff, donate for the year's T-shirt design — designed by a K-State student — with 100% of the proceeds funding keeping students on campus. We have helped more than 900 students continue their education, and the motto of "students helping students" really speaks to the family culture here at K-State.
During Proud Week, the primary campaign for donations, we invite your participation. Follow K-State Proud on social media for updates and other information throughout the week.
Instagram: @kstate_proud
Twitter: @KStateProud
Facebook: K-State Proud
Additionally, if you are willing to donate to help our efforts, the donation link can be found at proud.twentyfor.org.
T-shirt donations are $20 but any donation amount is appreciated. The T-Shirt design is included above.