December 1, 2020
Math Club to host 'A crazy hard solution to a problem solved by Gauss'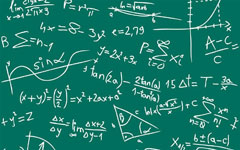 The Math Club at K-State, a registered independent student organization, will host its monthly meeting virtually at 7:30 p.m. Wednesday, Dec. 2. Please register to receive the information about the Zoom ID by email.
The Math Club's purpose is to foster an environment where undergraduate and/or graduate students who are interested in mathematics can meet. In addition, Math Club supports various mathematics activities.
We will explore a problem that was solved by Gauss when he was a child and discover a crazy hard solution to it. This solution will serve as a window to deep results from a number of areas of mathematics. Join us to investigate "A crazy hard solution to a problem solved by Gauss."
For more information, please email tazizi@k-state.edu.