August 28, 2020
Out in STEM, oSTEM, meets at 6 p.m. Sept. 1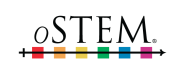 oSTEM, or Out in STEM, a registered student organization dedicated to educating and fostering leadership for LGBTQA communities in the STEM fields, will have its first meeting of the semester at 6 p.m. Tuesday, Sept.1, via Zoom.
We will play online party games and talk about what's coming up for us as an organization this semester.
Email Lauren Konrade at lakonrad@k-state.edu for the Zoom invitation and to answer any questions about oSTEM.