April 20, 2020
Jennifer Vellenga launches and hosts a podcast, 'Ditch Your Backup Plan'
Submitted by Jennifer G. Vellenga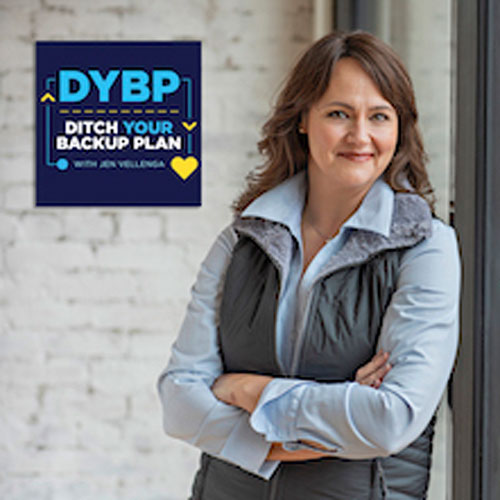 Professor Jennifer Vellenga, a professional director, actor and voiceover artist, has launched and hosts the "Ditch Your Backup Plan: Stories of rewarding careers between starving artist and celebrity" podcast, an interview show discussing what it really takes to make it in arts and entertainment. The interviews are geared toward high school and college students and parents who have little access to professional artists and seek information about the realities of pursuing a career in the arts.
The most recent episode, released on April 13, features Logan Jones, a Wichita native and 2015 graduate of K-State who earned dual bachelor's degrees in theatre and French. Jones serves as the general manager and production stage manager of About Face Theatre in Chicago.
The "Ditch Your Backup Plan" podcast has reached a global audience of 2,500 since the first episode released on Feb. 3. Notable guests include Becca Kötte, backup singer for rock legend Rod Stewart; Ross Evans, Los Angeles-based screenwriter; and Lauren Hirsh, child guardian for Disney's "Frozen on Broadway." In the podcast trailer, local youth from the Manhattan Parks and Recreation Department/K-State Summer Theatre Camp and School of Music, Theatre, and Dance faculty children voiced what they want to be when they grow up. Dean Vellenga composed, performed and recorded the podcast theme music.
"I began interviewing guests for the podcast in December 2019, before the WHO announced the global pandemic in March 2020," Jennifer Vellenga said. "The arts and entertainment industry is among the hardest hit by the shutdowns. Artists are uniquely positioned to navigate recent challenges since they expect some unemployment throughout their careers. Their adaptability, resiliency and tolerance for risk inspire me to continue using the podcast platform to change perceptions around careers in arts and entertainment."
An upcoming bonus episode will share pandemic-related changes to the arts and entertainment industry.
To listen to the podcast, visit DitchYourBackupPlan.com or find it on any podcast platform including Apple Podcasts, Google Podcasts and Spotify.