K-State journalism and mass communications students meeting COVID-19 challenge
Monday, April 20, 2020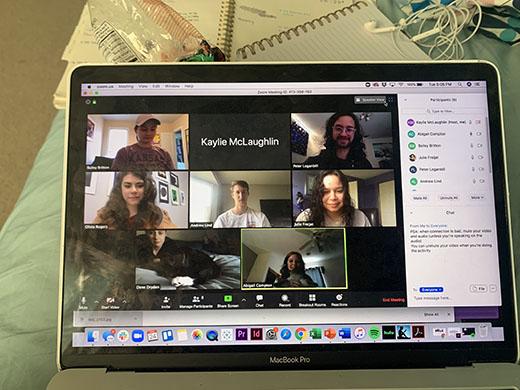 Kansas State Collegian staffers meet via Zoom.

| Download this photo.



MANHATTAN — Kansas State University journalism and mass communications students are learning some valuable lessons about communicating in times of crises.

"Those working in student media have had to adjust the way they get news to their readers, listeners and viewers, while those working as interns with local organizations are learning just what crisis management is all about," said Gloria Freeland, assistant professor of journalism and mass communications and director of the Huck Boyd National Center for Community Media.

With the university's move to limited on-campus operations, the Kansas State Collegian staff recently relaunched the student newspaper's online newsletter. It is posted on Mondays, Wednesdays and Fridays, which were the paper's regular print days.

"Technology is helping us a lot right now," said editor-in-chief Kaylie McLaughlin, junior in journalism and mass communications, Shawnee. "We have weekly full editorial meetings, regular individual meetings and desk specific meetings as needed exclusively using Zoom."

The Collegian has a feature series that spotlights how the pandemic is affecting individual students, including a first-generation student, an international student, a student from China, a graduating senior, a job-hunting student and others who have found ways to cope.

"Overall, we are trying to do more people-focused stories while also highlighting solutions and innovations other campus entities are working on to carry out their missions," McLaughlin said.

Abby Pfannenstiel, editor of Manhappenin' magazine and senior in journalism and mass communications, Kansas City, Missouri, said her staff also is adjusting and is motivated to come up with ideas on how to create a full-print magazine remotely as a team. She said most advertisers have chosen to stay with them.

"We are hoping this situation turns out to be an opportunity for us to make something we never would have thought to do otherwise," Pfannenstiel said.

The K-State student radio station Wildcat 91.9 also has adapted to the crisis.

Bill Bernard, Wildcat 91.9 radio personality and disc jockey and senior in journalism and mass communications, Manhattan, said the staff is working in its studio but is following guidelines to sanitize the room and to limit access to a small number of people.

"I would say the biggest thing is the radio station is an outlet to get the word out to people up to the minute and faster than by any other means other than social media," Bernard said.

Zandt Durham, morning show host and senior in journalism and mass communications, Olathe, is on the air every day from 7-9 a.m. and again from 2-4 p.m. and sometimes from 4-6 p.m. He also produces the station's "19@Noon" show, which has been featuring local business leaders, health professionals, agricultural groups, restaurant owners, COVID sufferers, teachers and other members of the community who have been directly impacted by the coronavirus. The show is hosted by the station's advisor Ian Punnett.

"The work we do is important; we inform our listeners and entertain them," Durham said. "In another sense, we help them understand what's happening, while also giving them a sense of normalcy, and hope that things will be OK."

KKSU-TV students recently did their "MHK All Day" broadcast using a special application of Zoom software. Staff members highlighted local and state health news related to COVID-19, talked about the DigiFab Club that is making plastic face shields with 3D printers, featured a man who has started "Stay Home MHK" to help area artists, talked to students in theater and art, showed how people can make their own face masks and more.

"In the midst of the chaos, our news team has had to become adaptive," said Monica Diaz, "MHK All Day" news anchor and senior in journalism and mass communications, Frisco, Texas. "We no longer have access to our equipment or to our team. Our top priority is still to get the news to the people. Whether it be producing a newscast from our bedrooms or interviewing people via Zoom, we will continue to do so. We want to share people's stories through our different forms of media."

Angie Moss, junior in journalism and mass communications and communications, Manhattan, is an intern with Manhattan-Ogden USD 383. She was a member of the team that launched the school district's new continuous learning website, which serves as the main resource for parents to obtain learning materials for their children. Her work on the site included content hierarchy and organization, as well as overseeing design and layout consistency.

"I've been in continuous awe of both the district's amazing crisis communications throughout this pandemic and the educators and faculty who are continuously giving it their all to ensure children maintain some sense of normalcy — whether that be through lesson plans on this website or being able to provide free meals to children who wouldn't get fed otherwise," Moss said.

William Ridge, senior in journalism and mass communications, Leawood, is interning for the public information officer at the Riley County Police Department.

"As a part of a collaborative public information team with other emergency services and public works departments in Riley County, the public information officer at RCPD has been working in-step with the Emergency Operation Center and Riley County Health Department to develop informational and instructive content about COVID-19 and to put it out to the public through educational social media posts and daily COVID-19 briefing videos," Ridge said.

"As the PIO intern, I have been assisting her in her regular RCPD duties as well as assisting the EOC through shooting video, designing educational graphics, developing messaging through social media platforms, and adding any creative input I have into the development of messaging and the management of social media for the EOC, RCPD, or Riley County Health Department," he said.

Steve Smethers, director of the A.Q. Miller School of Journalism and Mass Communications, said he is in awe of the work the school's students are doing.

"I believe that all situations provide teachable moments, and in that regard, we have seen our students rise to the occasion, taking their learned media communication skills and their innate sense of public service, using those talents to provide information that our communities need right now," Smethers said.

"For our students, they will remember this as a time when they showed the campus and outside constituencies that media and strategic communications play an important social function," he said. "If we are to find any silver lining amidst this chaotic situation, I believe it is the fact that our students will be even more effective as future mass communicators because they have a greater understanding of their roles in times of crisis. And that's a hard lesson to teach in confined classroom settings."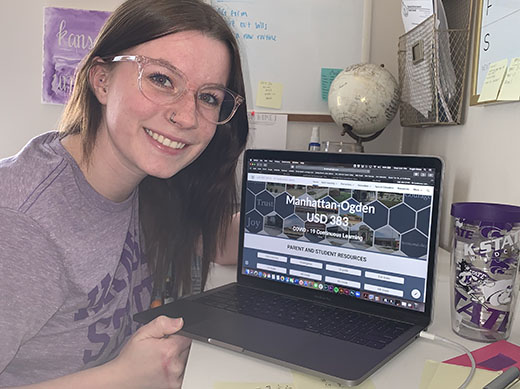 Angie Moss, junior in journalism and mass communications and communications, serves as an intern for USD 383 and helped the school district with the development of its remote learning website.

| Download this photo.