March 30, 2020
Save the date for 2020 KSUnite Oct. 13
Submitted by Richard Myers, Charles Taber and Bryan Samuel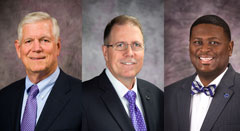 Greetings, K-State Family!
During this period of social and physical distancing, it is important that we remain optimistic about returning to a place of normalcy. As it did in 2017 when we started KSUnite, national concerns and other issues remind us that our work is not done.
Our values and commitment to diversity and inclusion as an institutional resource and priority for K-State are uncompromised. The 2020 University Climate Survey results indicate that KSUnite, as an institutional initiative, is having a positive impact on the university climate. Now, more than ever, it is important to continue coming together to reaffirm our university's pledge to foster an inclusive and welcoming atmosphere for all community members.
Both the KSUnite Steering Committee and the Planning Team are approaching the 2020 KSUnite with a hope that we will return to normal operations by that time. As in the past, classes will be canceled from 1-4 p.m. so the university can come together, celebrate our diversity and learn from and with each other. Save the date, Tuesday, Oct. 13, 2020.
More information about the day's activities will be shared as the KSUnite Planning Committee confirms speakers and presenters. Please mark the date on your calendars and class syllabi.
Sincerely,
Richard Myers, president
Charles Taber, provost and executive vice president
Bryan Samuel, chief diversity and inclusion officer