February 20, 2020
ParkMobile comes to K-State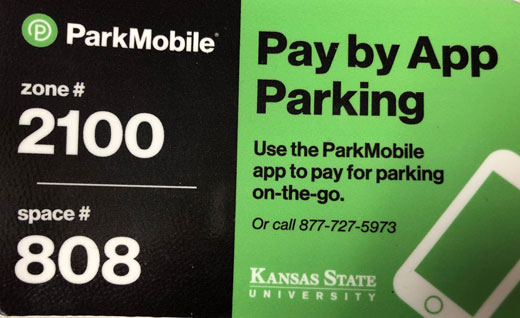 Students, faculty, staff and community members can now pay for parking meters at Kansas State University through the ParkMobile app.
The free ParkMobile app is available for both iPhone and Android devices. The meters are marked with new stickers with information on how to pay for parking using the app.
After setting up an account, users can immediately begin using the system with a registered mobile device. The ParkMobile app lets users pay for parking on-the-go by viewing and updating or adding time to their parking session remotely.
To pay for parking using the app:
Enter the Zone number and space number posted on stickers on the meter.
Select the amount of time needed and touch the "Start Parking" button to begin the session.
The user can also extend the time of the parking session on their mobile device without having to go back to the meter.
For more information, visit ParkMobile.io.