February 14, 2020
Live Ideas Undergraduate Journal contest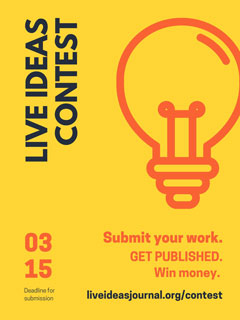 The Live Ideas Undergraduate Journal will accept submissions for an article contest. The top three submissions will receive monetary prizes — first place $200, second place $100 and third place $50 — and publication in the Live Ideas April edition. The submission deadline is March 15.
Read more about the contest or submit online.
Live Ideas is the open-access, peer-reviewed undergraduate journal of K-State's primary texts certificate program.