February 14, 2020
Dance students perform in New York City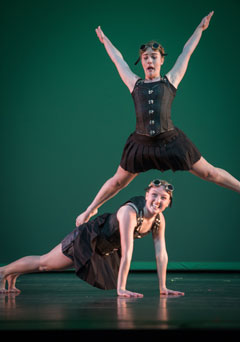 Six students from the K-State Dance Program will perform the choreography of assistant professor Kate Digby in a professional concert series in New York City Feb. 15 and 16.
The students, Jenna Henderson, Emma Hochman, Avery Moore, Sarah Mullin, Hailey Price and Jazmin Royg will perform Digby's work, "Jitter Bugs," which premiered in "SpringDance '17" at McCain Auditorium. The students also will have opportunities to explore the rich dance landscape of New York by taking classes and viewing performances.
The School of Music, Theatre, and Dance is part of the College of Arts and Sciences. The school annually gives more than $500,000 in undergraduate scholarships and graduate scholarships and assistantships. To learn more about the School of Music Theatre, and Dance at K-State, visit k-state.edu/mtd/.