February 11, 2020
Arts and Humanities Career Event on Thursday, Feb. 13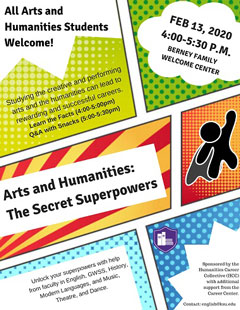 Not sure how a major in arts or humanities translates into career opportunities?
Join the faculty and advisors of the Humanities Career Collective from 4-5 p.m. Thursday, Feb. 13, at the Berney Family Welcome Center to reveal the hidden superpowers of arts and humanities degrees.
The hour-long event will include information about the proven match between student experiences and employers' needs, an individual skills inventory, and next steps for the career search. An optional meet and greet with refreshments concludes the event from 5-5:30 p.m.
"Students specializing in arts and humanities often don't realize how many employers seek their skills and experiences," said Karin Westman, associate professor and department head of English. "Past participants leave this event with strategies for pursuing a career they want and that employers need."
"Arts and Humanities: The Secret Superpowers" is sponsored by the English department in partnership with the Career Center and the Humanities Career Collective, an organization of arts and humanities departments and programs in the College of Arts and Sciences at Kansas State University.
For more information, contact english@k-state.edu.