December 16, 2019
Porath presents at national conference for English teachers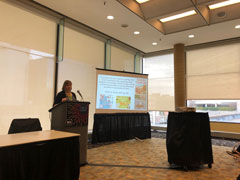 Suzanne Porath, assistant professor of curriculum and instruction, attended and presented at the National Council of Teachers of English conference in Baltimore, Maryland, hosted Nov. 21-24.
This professional organization supports the teaching and research of English language arts in K-12 schools and at the college level. The theme of the conference was "Spirited Inquiry."
Porath's presentations included "Digital Tools to Spark Reading Inquiry and Response," "Inquiring Together through #CoffeeEdu" and "What Teachers are Reading: #NF10for10."