November 18, 2019
Two internationalization webcast opportunities to celebrate International Education Week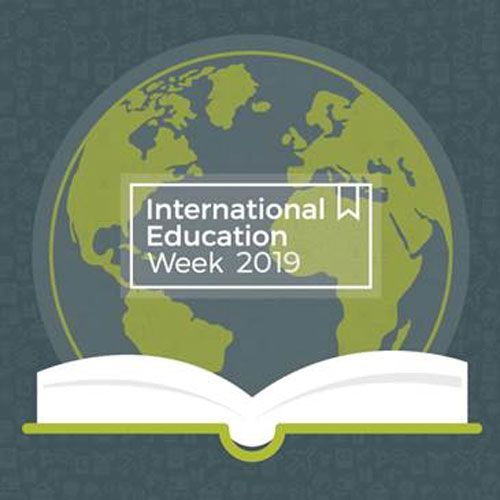 As part of International Education Week, the Office of International Programs will present two opportunities for the campus community to hear from universities that been recognized by NAFSA for successful internationalization strategies on their campus. Both presentations will be streamed online via live webcast from Washington, D.C.
The first webcast, "The Role of Higher Education in Resolving Conflict and its Consequences," will be 9-10 a.m. Tuesday, Nov. 19, in 304 Fairchild Hall, the Office of International Programs conference room.
Over the years, higher education institutions have played a vital role in resolving conflict through education, training and research. As the United Institute of Peace celebrates its 35th anniversary and as NAFSA: Association of International Educators continues into its seventh decade of impact in the field of international education, this program will highlight the collaboration between the field of peacebuilding and higher education to address the modern-day challenges of conflict.
"This webcast will provide an opportunity to expand international perspectives, foster dialogue, and build recognition and support of international education," said Marcellus Caldas, assistant provost in the Office of International Programs.
The second webcast, a NAFSA Presidential Panel featuring the 2019 Senator Paul Simon Award for Campus Internationalization Award winners, will take place 3-4:15 p.m. Thursday, Nov. 21, in the UMB Theater at the Marianna Kistler Beach Museum.
These campus leaders will discuss their successes and ideas that were implemented to elevate international awareness on their campuses. Esther D. Brimmer, executive director and chief executive officer of NAFSA will moderate the panel.
The 2019 Comprehensive Award winners:
Brown University
Dickinson College
Kirkwood Community College
Miami University
West Virginia University
The 2019 Spotlight Winners:
SUNY Buffalo State
University of Evansville
Virginia Tech
The Simon Awards celebrate the legacy of the late Sen. Paul Simon of Illinois, a lifelong advocate for international education and exchange, recognizing universities and programs that promote international understanding and a more just and peaceful world.
According to the NAFSA website, with more than 10,000 members worldwide, NAFSA: Association of International Educators is the leading organization committed to international education and exchange, working to advance policies and practices that build global citizens with the knowledge and skills they need to succeed in today's world. For 17 years, NAFSA: Association of International Educators has honored outstanding achievement in campus internationalization.
Sara Thurston, director of International Student and Scholar Services at K-State, is serving as a NAFSA board member in her second third-year term.
Both events immediately start live-streaming on time, so please arrive early to be seated before they start.
Immediately following the Thursday, Nov. 21, webcast, the 2019 International Education Awards Ceremony begins at 4:30 p.m. in the same location.