November 13, 2019
KSBN Fall Lecture Series on 'Darius the Great Is Not Okay' concludes Thursday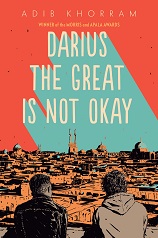 The final event in the K-State Book Network's "Darius the Great Is Not Okay: A Public Lecture Series" takes place from noon to 1 p.m. on Thursday, Nov. 14, in the Union's Big 12 Room and at https://tinyurl.com/ksbn2019sports. The event is free and open to the public.
Representatives from K-State Athletics and Counseling Services will offer a moderated panel discussion on "Sports and Well-Being."
Dr. Kyle Goerl, MD CAQSM, primary care sports medicine and family medicine physician for Lafene Health Center and team physician for K-State Athletics, will serve as moderator.
Participants will include:
Anne Weese, director of sport psychology, K-State Athletics.
Kennedy Felice, graduate student in kinesiology and student athlete.
Bri Presutti, post-degree consultant, Counseling Services.
The 2019 KSBN lecture series draws upon the collective knowledge of the campus community to provide insight on the issues raised in Adib Khorram's novel. Previous lectures in the series are archived and available at https://www.k-state.edu/ksbn/lectures.html.
Visit the K-State Book Network for more information about Khorram's book and to offer feedback on the short-listed titles for 2020.