November 8, 2019
K-State joins National First-generation College Celebration on Nov. 8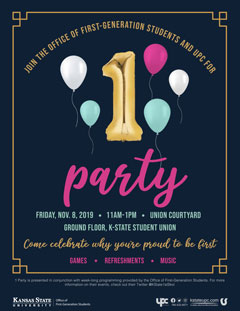 K-State has been celebrating First-generation students all week and today we wrap up the week's activities.
Please join us today for a first-generation student party at 11 a.m. to 1 p.m. in the K-State Student Union courtyard. Come to meet other first-gen students, faculty and staff, and support our first-generation community.
There will be free food, games and fun. We hope to see you there!