November 5, 2019
Muslim Students Association, Islamic Center of Manhattan to host open house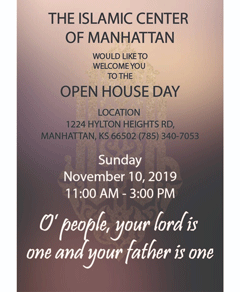 The Muslim Students Association, a registered independent student organization, invites K-Staters to an open house from 11 a.m. to 3 p.m. Nov. 10 at the Islamic Center of Manhattan.
The center is always open to every Muslim and non-Muslim brothers and sisters for any questions related to Islam.
The open house will include:
Answers to any questions related to Islam.
Meeting with recently converted Americans to Islam and hear their stories.
Information about the activities of the center and Muslim Students Association.
Wearing and trying Hijab for non-Muslim sisters.
Writing your name in Arabic.
Snacks and Mideastern food.
We are looking forward to seeing you there.