November 5, 2019
Save the date: Urban Food Systems Symposium June 4-6, 2020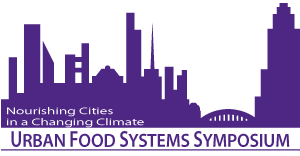 The Urban Food Systems Symposium hosted by Kansas State University will be June 4-6, 2020, at the Marriott Plaza Hotel in downtown Kansas City, Missouri. The symposium will also offer a pre-symposium workshop on June 3.
The symposium will bring together researchers, not-for-profit administrators, community organizers, extension professionals, students and others to share and gain knowledge on urban food systems and agriculture and their role in global food security. The focus is on food production and distribution in cities; climate change; urban planning and development; nutrition and human health; food policy and education; and community and economic development.

Henk de Zeeuw, international secretariat of the RUAF Foundation and an expert in participatory research and extension, multistakeholder policy development and planning, institutional development, will give the keynote address. Other speakers include:
Becca Jablonski, assistant professor and extension economist in food systems at Colorado State University.
Elizabeth Mitcham, director of the Horticulture Innovation Lab at the University of California, Davis.
Chuck Rice, university distinguished professor of soil science at Kansas State University.
Mark Winne, a community food systems and food policy activist, writer and trainer, will be the June 4 dinner speaker.
Attendees will have the opportunity to hear an array of additional breakout presentations.
Abstracts for the Urban Food Systems Symposium will be accepted until 5 p.m. CST Nov. 15. This is a great way to share your work with others through presentations or posters.
Submissions are now being accepted for travel scholarships for both students and urban food systems professionals. For more information on how to apply, please visit our website. Travel scholarships for urban food systems professionals are funded through North Central SARE.
For more information, visit www.ufss2020.org.
Travel scholarships for urban food systems professionals are supported by the National Institute of Food and Agriculture, U.S. Department of Agriculture, under award number 2019-38640-29879 through the North Central Region SARE program under project number ENC19-181 Capacity Building in Urban Food Systems in the North Central Region. USDA is an equal opportunity employer and service provider. Any opinions, findings, conclusions, or recommendations expressed in this publication are those of the author(s) and do not necessarily reflect the view of the U.S. Department of Agriculture.