November 1, 2019
SPICMACAY-KSU to host music and dance spectacle Fall Fest 2019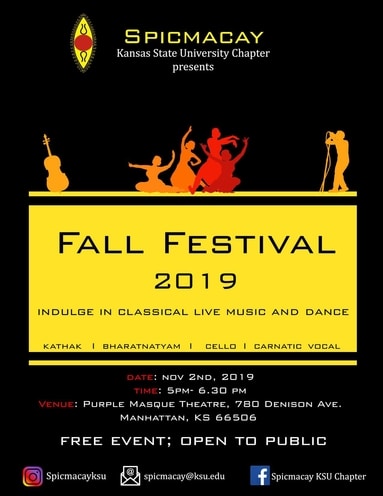 The Society for the Promotion of Indian Classical Music and Culture Amongst Youth, known as SPICMACAY-KSU, will host the cultural event Fall Fest 2019 from 5-6:30 p.m. Saturday, Nov. 2, at the Purple Masque Theatre.
At Fall Fest, we provide a professional platform to student artists to showcase their talent to the community.
SPICMACAY-KSU invites the public to an evening filled with performances by four seasoned classical student artists in four uniquely different performances spanning from music to dance. Urmi Chakravarty will perform the Indian classical dance Kathak; Nandini Sarkar will perform the Indian classical dance Bharatnatyam; Amila Abeyesekera will play the cello; and Natasha Manjunath will sing a Carnatic vocal.
SPICMACAY-KSU is a registered independent student organization. Drinks provided while supplies last.