November 1, 2019
Apparel and textiles program receives national accreditation
Submitted by College of Health and Human Sciences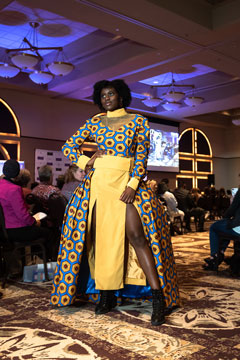 The Kansas State University undergraduate program in apparel and textiles in the College of Health and Human Sciences has been granted accreditation by the Textile and Apparel Program Accreditation Commission, also known as TAPAC.
TAPAC is the official accrediting organization for baccalaureate programs in textiles, apparel and related areas. With a vision of ensuring higher education for the advancement of the textile and apparel profession, TAPAC assesses the quality of textile and apparel undergraduate programs throughout the United States. The purpose of TAPAC is the establishment of standards for textile and apparel programs and evaluation of programs through peer review.
Throughout the 2018-2019 academic year, the apparel and textiles program at K-State engaged in TAPAC's accreditation process — including the preparation of an extensive self-study report and participation in an accreditation review site visit.
The apparel and textiles program at K-State is the only four-year fashion program in Kansas, and it is designed to inspire students to envision fresh new approaches to the global challenges facing every aspect of the fashion industry. This accreditation is external affirmation of the quality and reputability of the program. Accreditation of the apparel and textiles undergraduate program was granted in October 2019 and is valid for six years.