May 13, 2019
Natural resources and environmental science secondary major students to present capstone research projects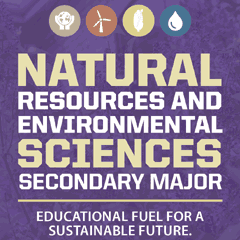 Students in the Natural Resources and Environmental Sciences Secondary Major capstone course will discuss findings from their semesterlong interdisciplinary research projects from 9:40-11:30 a.m. Tuesday, May 14, in 328 Waters Hall. Student researchers this semester come from seven different majors in the colleges of Agriculture, Arts and Sciences, and Engineering.
Three projects will be presented in both seminar and poster formats, including "Pollinator Habitat Installation at Marion County Lake," "Developing a Mission Statement using a Social Media Survey for Marion County Lake and Park" and "Marion County Lake Shoreline Buffer Zone Health Assessment through Computational and Chemical Analyses." Student work has been supervised this semester by faculty advisors David Haukos in Division of Biology; Karl Noren in horticulture and natural resources; and Aleksey Sheshukov in biological and agricultural engineering.
The presentations are open to the public. Undergraduate students interested in natural resources, environmental science and sustainability issues are especially encouraged to attend. The secondary major is open to all K-State students and is supported by the Office of the Provost, College of Agriculture, College of Arts and Sciences, Department of Biological and Agricultural Engineering, and Department of Geography.