May 3, 2019
Piano faculty to perform a four-hand recital of French music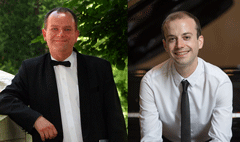 Following their recital for the Hale Library Concert Series, piano faculty members Slawomir Dobrzanski and Agustin Muriago will present a four-hand recital of French piano music for the Great Spaces Music and Arts Series at 3 p.m. Sunday, May 5, at the Grace Cathedral in Topeka.
The recital will feature works by Debussy, Ravel, Poulenc, Faure and a piece by Antoine de Kontski that Dobrzanski and Muriago recorded for the Acte Prealable label. For more information, visit greatspaces.org.
Faculty in the School of Music, Theatre, and Dance have received Grammy awards and nominations, and Emmy awards; produced recordings on international and national CD labels; published books and journal articles with international and national publishing houses and professional organizations; and performed and presented research in every continent in the world, except Antarctica. The School of Music, Theatre, and Dance is a part of the College of Arts and Sciences. Visit k-state.edu/mtd to learn more.