May 3, 2019
Congratulations to the 2019-2020 K-State Proud co-chairs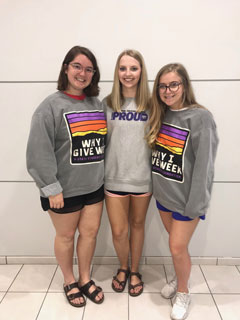 Student Foundation and the K-State Proud team announce the 2019-2020 K-State Proud co-chairs: Shay Duer, junior in agribusiness, Onaga; Madison Wilkins, junior in finance, Stilwell; and Julia Pechar, sophomore in nutrition and kinesiology, Papillion, Nebraska.
K-State Proud is a nationally recognized, students helping students, philanthropic campaign supporting students who have exhausted all other forms of financial assistance by supporting Student Opportunity Awards. Over the past 13 years, K-State Proud has raised more than $1,296,606 for Student Opportunity Awards to help more than 750 students stay at K-State who otherwise would not have been able to continue their education.
Congratulations to the new K-State Proud co-chairs.