May 3, 2019
Faculty produce up-to-date reference for identifying household arthropods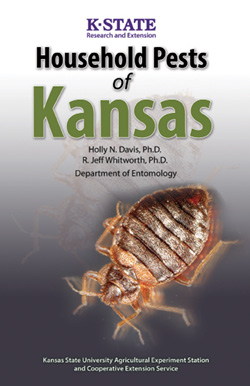 As the weather warms up, arthropods are once again on the move. K-State entomologists Holly Davis and Jeff Whitworth have produced a book, "Household Pests of Kansas," to help you better manage these potentially invasive pests.
The 112-page color guide includes photos, descriptions, basic biology, types of damage and management options for arthropods found in and around Kansas homes. It was created to help homeowners and pest managers identify and manage key arthropod pests including insects, mites, spiders, centipedes, scorpions and ticks.
"Household Pests of Kansas" is a valuable reference for all Kansas residents. It is available as a PDF or for purchase as a spiral bound book at the K-State Research and Extension Bookstore, 24 Umberger Hall.