May 1, 2019
White Coat Ceremony to make livestream video debut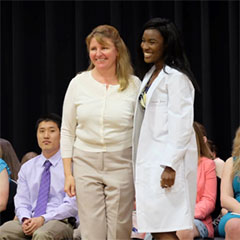 This May, third-year veterinary students from Kansas State University will reach their arms, one sleeve at a time, to don their newest piece of educational apparel: a white coat for doctors. For the first year since this tradition began in 2001, family and friends will have an opportunity to witness this fitting event online.
The Veterinary Health Center has announced it will broadcast the annual White Coat Ceremony in an online video stream at its website. The event will take place at 2 p.m. Sunday, May 5, in the K-State Student Union Ballroom.
The annual White Coat ceremony is an activity that celebrates the transition of K-State College of Veterinary Medicine third-year veterinary students from their preclinical education to their senior year clinical rotations within the teaching hospital at K-State, the Veterinary Health Center.
"We are excited to once again host the College of Veterinary Medicine White Coat ceremony as we welcome 115 members of the class of 2020 as senior veterinary student doctors into the halls of the K-State Veterinary Health center teaching hospital," said Elizabeth Davis, interim director of the Veterinary Health Center and head of clinical sciences in the College of Veterinary Medicine.
Davis will serve as master of ceremonies at the ceremony. Special guests will include Brett Montague, current senior and 2019 class president; Bonnie Rush, interim dean; and Becky Mullis, associate manager of scientific affairs for Hill's Pet Nutrition, the event sponsor.
The white coats will be put on each student by one of six faculty members representing different sections in the Veterinary Health Center: Laurie Beard, equine; David Biller, radiology; Ken Harkin, small animal medicine; Rose McMurphy, anesthesiology; Matt Miesner, livestock services; and Walter Renberg, small animal surgery. Tom Schermerhorn will act as marshal for the ceremony.
Mullis will deliver special remarks for the class of 2020. Alexandra Allen, the 2020 class president, will conclude the White Coat Ceremony by leading the students in the "Pledge of Professionalism."
The livestream is posted at vet.k-state.edu/vhc/white_coat_ceremony.html.