May 1, 2019
Listen to latest Global Food Systems podcast with Melanie Derby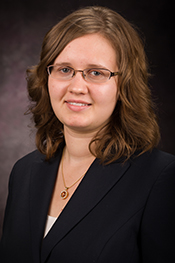 Listen to the latest Global Food Systems podcast, "Something to Chew On," with Melanie Derby, associate professor of mechanical and nuclear engineering.
Derby currently holds the Hal and Mary Siegele Professorship in Engineering where her research focuses mainly on thermal fluids problems. She is part of the newly founded KSU R3 NRT team that is looking to leverage interdisciplinary collaboration to tackle some of the greatest challenges at the Food, Energy and Water Nexus. In the interview, we cover engineering approaches to improve water use efficiency in both the agriculture and energy sectors as well as Melanie's experiences in science education.
For more about Derby and KSU R3 NRT, please check the team's website.