April 29, 2019
K-State Sales Team shines at 2019 National Collegiate Sales Competition
Submitted by Brent Fritzemeier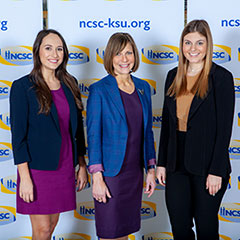 The Kansas State University Sales Team recently took on the best and brightest sales students from around the country at the 2019 National Collegiate Sales Competition, bringing home fifth place overall out of a field of 144 students representing 72 universities.
Representing K-State at the contest were Cecilia Nancarrow, junior in professional strategic selling, and Lanessa Aurand, junior in professional strategic selling. This marks the fourth straight year that K-State has placed in the top 10 at the competition. Dawn Deeter, marketing professor and director of the National Strategic Selling Institute is the head coach for the K-State Sales Team.
"I am so proud of Cecilia and Lanessa," Deeter said. "They both turned in excellent performances at the competition and represented K-State and the NSSI well. Competitions like these not only showcase the excellent sales talent possessed by our students to employers across the country, but also provide an opportunity for further skill-development outside the classroom. It's a win-win for all involved and we are pleased to have the opportunity to participate each year."
Hosted by Kennesaw State University in Kennesaw, Georgia, the National Collegiate Sales Competition, now in its 21st year, is the longest-running and largest university sales role-play competition in the country. Sales competitions allow students to test their selling skills against their peers from other universities with a focus in sales through role play scenarios.
The K-State Sales Team is housed in the College of Business Administration's National Strategic Selling Institute, which has been named one of the top sales programs in the country for eight straight years by the Sales Education Foundation. Last fall, K-State became just the 19th university in the U.S. to offer a major in sales. Students can also earn a certificate in professional strategic selling, which is open to all majors at the university. The professional strategic selling program introduces students to the fundamentals of sales and through the innovative curriculum and sales labs allows students to develop the skills needed to be successful.
For more information on the National Strategic Selling Institute, please contact kstatesalesprogram@k-state.edu.