April 23, 2019
From KSU Foundation: Public invited to BioKansas May 2 networking reception at K-State Office Park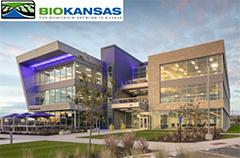 The KSU Foundation will host BioKansas, the bioscience network in Kansas, and the quarterly networking reception, "BioBreak," from 4-6 p.m. May 2 at K-State Office Park, 1880 Kimball Ave., Manhattan.
The BioKansas board meeting will begin at 1 p.m. and will be followed by the networking reception at 4 p.m. Kansas State University faculty and staff are invited to discuss recent developments in bioscience and the upcoming National Bio and Agro-defense Facility. Appetizers and refreshments will be provided.
Register today at biokansas.org/event/ksu19.
BioKansas, biokansas.org, is a network of more than 160 member organizations in Kansas across industries to include bioenergy, digital health, animal and human health, contract research organizations and education.