Kansas State Polytechnic offering free UAS training to Kansas high school teachers and principals
Tuesday, April 23, 2019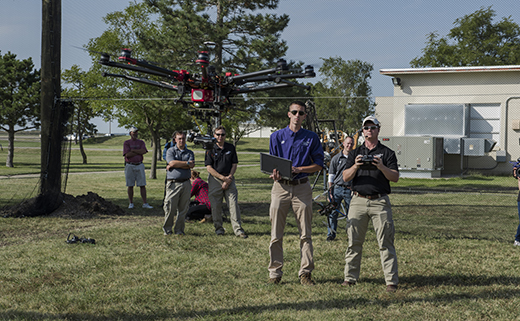 Kansas State University's Polytechnic Campus is offering an immersive, one-week expenses paid UAS training program for Kansas high school teachers and principals June 10-14. | Download this photo.


SALINA — Kansas State University's Polytechnic Campus is offering its award-winning training on unmanned aircraft systems, also known as drones, to Kansas high school teachers and principals. Attendees will experience an immersive, one-week expenses-paid program June 10-14.
After completing the program, attendees will be Federal Aviation Administration-certified as commercial UAS pilots, have fundamental multirotor flight skills and understand all opportunities available to implement a UAS curriculum at their respective school.

The program consists of three days of in-person, hands-on classroom training on UAS operations, FAA regulations, safety considerations and all topics related to the FAA's 14 CFR Part 107 written exam, taken on-site at the completion of the course. Kansas State Polytechnic has a 99 percent pass rate from attendees completing the training.

Attendees will also receive hands-on multirotor flight training over two days, a feature not available in online-only trainings. Special attention will be given to applying safety practices during flight and basic proficiency knowledge of unmanned aerial vehicle flight operations. This program also includes lifetime access to online continuing education for recertification.

Instruction is led by Kansas State Polytechnic's nationally recognized UAS program. Kansas State Polytechnic was named third-place winner in the training and education category of the 2018 XCELLENCE Awards by the Association for Unmanned Vehicles Systems International. The award recognizes the valuable training offered and the effect Kansas State Polytechnic has on the UAS industry. Kansas State Polytechnic is a finalist for this category in 2019, with winners to be announced in May.

"We have been offering this program since the inception of the FAA's regulations on commercial UAS operations over two years ago," said Kurt J. Carraway, the UAS executive director of Kansas State University's Applied Aviation Research Center on the Polytechnic Campus.

"Our program is proven, and we are proud to be able to offer it as a strategic partnership with high schools across Kansas," Carraway said. "After three days in our immersive academic course, our attendees will be ready to take the FAA exam on the fourth day. In addition, we will pair attendees up with our staff of flight instructors to introduce them to UAS flight operations. We look forward to opening our doors to academia and expanding UAS education across the state."

Attendees will participate in a collaborative session with Kansas State Polytechnic administration on developing UAS curriculum in their respective high school. Teachers and principals who are just beginning a UAS program, have already had success in offerings, or are considering developing a program are encouraged to attend.

"Kansas State University's UAS program was formed 11 years ago," said Alysia Starkey, interim CEO and dean on the Kansas State Polytechnic Campus. "As the second university in the nation to offer a UAS-related degree, there is no better place than the Kansas State Polytechnic Campus to gain a foundation on UAS training and education."
Starkey said this form of outreach is consistent with Kansas State University's land-grant mission.

"We are committed to preparing high school students for professional careers in aviation," Starkey said. "This event is our newest mechanism for developing our aviation pioneers of tomorrow. In our interactive session with our attendees, we particularly look forward to exploring ways to serve high school students, which could include gaining Kansas State University credit toward a degree while in high school."

Attendees will stay in the Kansas State Polytechnic residence halls and dine on campus at no cost. All instruction, materials and flight training are provided in-kind by Kansas State Polytechnic. Attendees will be required to cover the $150 FAA exam fee upon completion of the course. The fee is levied by the FAA. Kansas only has three FAA-authorized test centers — and one of them is on the Kansas State Polytechnic Campus.

Registration for the course is now open and is available online. It will be limited to the first 32 registrants and is expected to reach capacity quickly. Please contact Kansas State Polytechnic's Professional Education and Outreach Office at profed@k-state.edu or 785-826-2633 with questions.