April 19, 2019
K-State team takes second place at Kansas Society of Human Resource Management HR Games
Submitted by Brent Fritzemeier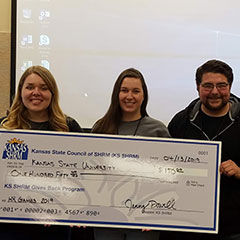 Three student teams from the College of Business Administration recently traveled to Fort Hays State University to participate in the 2019 Kansas Society of Human Resource Management, or SHRM, HR Games.

The SHRM HR Games pits teams of students from universities around the state is a Jeopardy-style competition in human resource-related categories. Thirteen teams competed in this year's games.
Two of the K-State teams made it to the semifinals of the competition, with the team comprised of seniors in management Timothy Lillis, Macy Bruton and Makayla Crow advancing to the final round and ultimately placing second overall with a $150 prize. Also competing for K-State were Kylee Fink, senior in management; Fatou Faburay, junior in management; Nicole Bolte, senior in management; Hannah Valentine, junior in management; Hannah Sultz, junior in management; and Lydia Goering, sophomore in business.
The 2019 SHRM Student Summit and HR Games provided opportunities for students, student chapter advisors, faculty members and HR professionals to connect. Attendees heard from a variety of speakers, and had the opportunity to network with local HR practitioners and other students. The event is designed to enhance student perspectives on what it means to be a member of the HR community and prepare young professionals to advance both personally and professionally.
The 2020 Kansas SHRM Student Summit and HR Games will be hosted at Kansas State University.