April 19, 2019
Environmental microbiologist to present international agronomy lecture April 23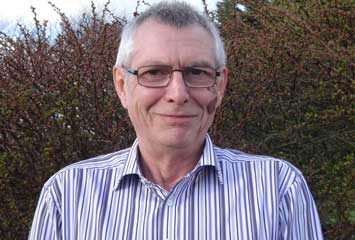 Renowned international environmental microbiologist James Prosser will present the fourth Chuck and Sue Rice International Agronomy Lecture at 3 p.m. April 23 in the McVay Family Town Hall at the Leadership Studies Building on the K-State campus.
The title of the lecture is "Harnessing Soil and Plant Microbiomics for Agriculture: Hype, Hope, and Reality." A reception and poster session will follow the lecture at 4:30 p.m. in the Bluemont Room of the K-State Student Union.
Prosser also is presenting this lecture as part of the National Academies of Sciences, Engineering, and Medicine Board on Agriculture and Natural Resources, or BANR, 75th anniversary. Chuck Rice, K-State university distinguished professor, serves as the BANR board chair.
Prosser is professor of environmental microbiology in the School of Biological Sciences at the University of Aberdeen. He was awarded a bachelor's degree in microbiology by Queen Elizabeth College, University of London in 1972 and a doctorate by the University of Liverpool in 1975. He then carried out postdoctoral research in Liverpool before moving to a lectureship at the University of Aberdeen, where he holds a personal chair.
Microorganisms have important positive and negative impacts on agricultural production. For example, nitrogen-fixing bacteria support crop growth, while microbial pathogens can devastate crops and livestock. Some of these specific interactions are well studied, but microbes play broader, equally crucial roles in agriculture. They establish and maintain soil structure, quality, and health and decompose dead plants and animals and break down pollutants. They also have detrimental environmental and economic effects like generating greenhouse gases and reducing fertilizer use efficiency. These broad functions are under-appreciated, in part because microbes are "invisible." In addition, they are performed by complex communities of microbes whose abundance, identity, function, and even existence were difficult or impossible to determine using traditional approaches.
The past 25 years have seen the development and application of a range of microbiomics techniques that have dramatically increased our ability to study soil microbes. They have demonstrated previously unsuspected, enormous diversity and important soil functions for newly discovered, novel microbial groups. However, they are not perfect. They have their own limitations and, importantly, have highlighted fundamental issues regarding microbes and their communities that challenge the ways in which we study soil microbiology and arguably suggest a need for a more scientific approach if the benefits for agriculture are to be realized.
Prosser's research focuses on the ecophysiology, diversity and ecosystem function of soil microorganisms, with particular emphasis on ammonia oxidizers, which play a central role in the global nitrogen cycle. His research has involved the development of molecular techniques to characterize natural communities of soil microorganisms, and their activities, and the use of model systems to address ecological questions.
He is a fellow of the Royal Society, the Royal Society of Edinburgh, the Royal Society of Biology and the American Academy of Microbiology and was awarded an OBE for services to Environmental Science in 2013. He has an honorary degree from the University of Ljubljana, is a CAS Distinguished International Professor and is Special Reviews and Commentaries Editor for ISME Journal and on the Editorial Boards of several other microbial ecology journals.
More information is available by contacting the agronomy department at 785-532-6101 and lecture information can be found at bit.ly/2Ghpjc2.