ChemE Car team brings home top prize from regional competition
Friday, April 19, 2019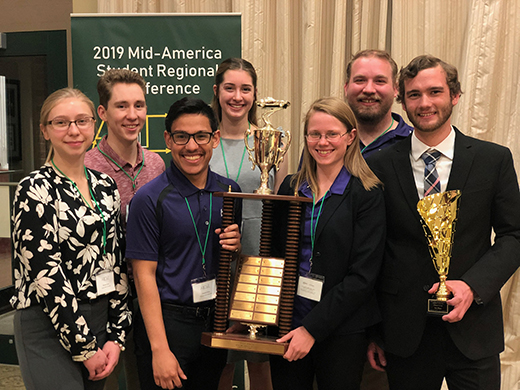 Members of the Kansas State University ChemE Car team with the trophies they earned for their first-place finish at the2019 Mid-America Regional American Institute of Chemical Engineers Conference. From left are Denea Clark,

Jack Gerhold,

David Alex Ortiz,

Rachel Berland,

Katharine Kellogg,

Joseph Hewitt and Dean Bennett

. | Download this photo.


MANHATTAN — For the third time in the past five years, the Kansas State University ChemE Car team took first place at the 2019 Mid-America Regional American Institute of Chemical Engineers Conference.
This year's event, hosted by Missouri University of Science and Technology April 13 in Rolla, Missouri, saw teams from Kansas, Iowa, Oklahoma, Missouri, Arkansas and Nebraska compete with 14 different cars.

The ChemE Car team of students from Kansas State University designed and constructed its winning entry, Wildcat Workout, powered by a chemical energy source to safely carry a specified load over a given distance and stop. Chemical sources could be from homemade batteries, biological catalysts, pressure reactions, thermodynamic reactions or other related choices. Each team's entry had to pass a safety inspection to prove there were no chemical, mechanical, electrical or pressure hazards.

"The competition is not about having the fastest, biggest or longest lasting car," said team captain, Katharine Kellogg, senior in chemical engineering from Colorado Springs, Colorado, "but is about having the best control over your reaction so you can make the car go an exact distance."

Wildcat Workout was powered by an acid-base reaction between potassium carbonate and citric acid, creating carbon dioxide and pressurizing the system. A solenoid, controlled by an Arduino — an open-source electronic prototyping platform — released some of the carbon dioxide into an artificial muscle, causing it to contract. The muscle was connected to the axle of the car enabling each contraction to move the vehicle forward.

"To our knowledge, our entry used the first pneumatic muscle in the competition," Kellogg said, "and our car was also unique because a large portion of its chassis was 3D printed."

Team advisers, faculty from the Tim Taylor Department of Chemical Engineering, are Keith Hohn, Jennifer Anthony and Andrew Duncan.

In addition to Kellogg, team members, all chemical engineering majors, include the following:

Joseph Hewitt, senior, Hutchinson; David Alex Ortiz, sophomore, Lansing; Jack Gerhold, senior, and Rachel Berland, both freshmen and both from Olathe; Denea Clark, freshman, Wichita; and Dean Bennett, senior, Union Bridge, Maryland.