April 17, 2019
First-generation Student Graduation Reception May 17
Submitted by First-generation graduation reception committee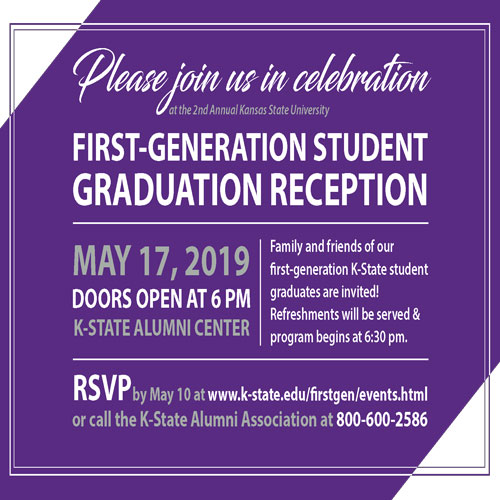 More than 600 undergraduate first-generation college students will receive their diplomas May 17-18. K-State will recognize their accomplishments and celebrate with their families at the second First-generation Student Graduation Reception at 6:30 p.m. Friday, May 17, at the K-State Alumni Center. Doors will open at 6 p.m.
Guests — including graduating students — should RSVP at bit.ly/2UnyTnz.
First-generation students in attendance will receive a green cord to wear at graduation that symbolizes their resilience throughout their college years. Families, friends and supporters of first-generation graduates are welcome to attend the celebration.
More information about the celebration can be found at k-state.edu/firstgen/events.html.
The Office for First Generation Students in collaboration with the following programs and/or offices have helped in the planning of this celebration:
Tamara Bauer, Staley School of Leadership Studies.
Tara Coleman, Dow Center for Multicultural and Community Studies at K-State Libraries.
Kevin Cook, Housing and Dining Services.
Christa Dell'Isola, Center for Student Involvement.
Jessica Elmore, K-State Alumni Association.
Kathy Greene, Educational Supportive Services and McNair Scholars Program.
Pat Hudgins, Career Center.
Brenee King, Kansas Louis Stokes Alliance for Minority Participation, KS-LSAMP.
Mandi McKinley, K-State First.
Karina Moncayo-Michel, Office of First-generation Students.
Kiley Moody, Academic Achievement Center.
Rebeca Paz, Office of First-generation Students.
Adrian Rodriguez, Diversity and Multicultural Student Affairs.
Richard Sell, Division of Communications and Marketing.
Alison Wheatley, College of Arts and Sciences.