April 16, 2019
English professor has book nominated for two prizes, will give invited talk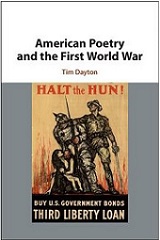 Tim Dayton, professor of English in the College of Arts and Sciences, has received two prestigious nominations for his scholarship on American poetry of World War I.
Cambridge University Press has nominated Dayton's "American Poetry and the First World War" for the James Russell Lowell Prize, sponsored by the Modern Language Association, and the John Hope Franklin Prize, sponsored by the American Studies Association.
The James Russell Lowell Prize recognizes a book of "an outstanding literary or linguistic study, a critical edition of an important work, or a critical biography."
The John Hope Franklin Prize "honors the most outstanding book published in American studies for the year preceding the annual meeting."
Both awards will be announced later this year.
In his book, Dayton connects the poetry of the period to the political and economic forces that brought America into the war.
Dayton will give an invited talk on "American First World War Poetry: From Alan Seeger to E.E. Cummings" at 6:30 p.m. Thursday, April 18, at the National WWI Museum in Kansas City. The event is free but online RSVPs are required.