April 16, 2019
Juan C. Aceros to present electrical and computer engineering seminar April 17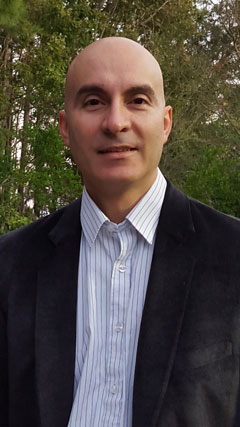 Juan C. Aceros, associate professor in the School of Engineering at the University of North Florida, will present "Adaptive Toys, Neurodevelopment, and Play" at 4 p.m. Wednesday, April 17, in 1109 Engineering Hall.
Aceros completed his doctorate in electrical engineering and master's in mechanical engineering at Northeastern University. Prior to joining the University of North Florida, Aceros was a senior research associate with the Neuroengineering Laboratory at Brown University where he researched implantable neural interface devices. Aceros' work has been featured in multiple media outlets at the local, regional and national levels — e.g., CBS47/FOX30 Action News, CNN's "New Day," and the Associated Press — and is currently funded by multiple grants from the Eunice Kennedy Shriver National Institute of Child Health and Human Development.
Abstract: Children under normal development undergo major physical transformations from conception through adolescence, with most rapid development taking place in their early years. Around six months of age they acquire the ability to move toward items that capture their interest and start engaging in independent, self-directed exploratory play. The maturation of brain cells and neural connections during this period of rapid growth is guided by the sensory stimuli from the outside world and directly impact the children's cognitive, motor, social, emotional, and language development. Children with developmental motor disabilities often lack the opportunity to perform these independent explorations of their environment and as a consequence face developmental delays that negatively impact their overall health and well-being leading to depression, social isolation, and lower quality of life. In this work, Aceros introduces a novel approach to physical therapy interventions using adaptive technology through modifications of commercially available ride-on toys. In addition, Aceros presents the only NIH-funded program for interdisciplinary education between engineering and physical therapy available in the country.