April 12, 2019
Bergmeier selected as national finalist for 2019 Great Plains Journalism Awards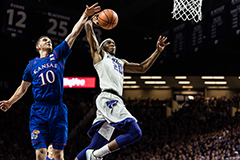 Olivia Bergmeier, Collegian multimedia editor, has been selected as a national finalist for the 2019 Great Plains Journalism Awards through the Tulsa Press Club.
Bergmeier is one of three collegiate staffers selected in the Midwest region for this prestigious award. She is one of three collegiate staffers from the state of Kansas who placed in the competition. This is the second year that the Collegian Media Group has had a finalist in the Photographer of the Year competition. Cooper Kinley won the Photographer of the Year award in May 2018.
Bergmeier has made impactful photography contributions to the Collegian newspaper, Manhappenin' magazine and Royal Purple yearbook over the past two years for the Collegian Media Group. She was won photography awards at the state and national levels, including several awards at the Kansas Press Association contest, where her work competes against professional journalists and industry professionals from around the state.
An example of Bergmeier's photography, the photo included in this announcement shows K-State Wildcat Xavier Sneed going for a dunk at the Sunflower Showdown.