April 8, 2019
K-State brings home third place finish in 2019 Big 12 MBA Case Competition
Submitted by Brent Fritzemeier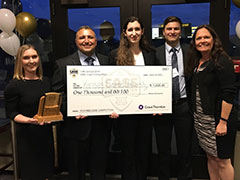 Four students from the College of Business Administration at Kansas State University placed third in the 13th annual Big 12 MBA Case Competition March 28-30 at the John Chambers College of Business and Economics at West Virginia University.
The team members — Jessica Davis, Amanda Buckwalter, Michael Kolins and Calvin King — were awarded a cash prize of $1,000. This marks the fourth consecutive year that K-State students have placed in the top three at the Big 12 MBA Case Competition.
"The Case Competition was a great experience that has true, real-world application," King said. "Companies value employees who have the ability to work with others on a team and have the mental agility to provide informed recommendations and execute them when under great pressure and seemingly impossible timelines. The Case Competition creates this exact type of environment, and forces students to use the skills taught within the MBA program and apply them. Companies are actively seeking to recruit and hire business students with these skills."
Sabine Turnley, instructor in management, trained the team and served as the faculty advisor. Graduate program coordinator, Lynn Waugh, also was a staff advisor during the competition.
This year's competition was sponsored by Grant Thornton LLP and asked students to design a contingency plan for public sector contractors to maintain revenue and avoid layoffs and furloughs during government shutdowns.
"That type of case is certainly not what we expected, and it was very challenging, but our team was able to leverage their individual expertise while working as a very cohesive unit," Turnley said. "The team did an amazing job with their analyses and recommendations, they made a polished presentation to the judges, and they truly stood out during the Q&A."
TCU and Iowa State University finished first and second respectively. Next year, the Big 12 MBA Case Competition will be hosted by Oklahoma State University.