April 8, 2019
APDesign Department of Architecture presents 'Cowboys and Farmers'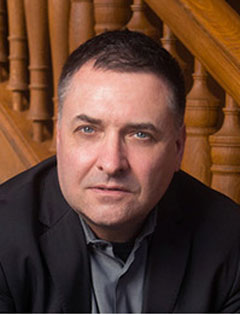 The College of Architecture, Planning and Design, Department of Architecture will present "Cowboys and Farmers," a lecture by Jeffrey L. Day, at 4:30 p.m. Wednesday, April 10, in Regnier Hall, Regnier Forum. A reception will follow in Union Station by JP's. The lecture is free and open to the public.
Day, a fellow of the American Institute of Architects, is a principal of Actual Architecture Company, an architecture and design practice founded in 2018, and the successor to the Omaha, Nebraska office of Min Day. From 2003-2018, Day was principal of Min Day, an architectural practice based in San Francisco and Omaha. He is a professor of architecture and landscape architecture and former director of the architecture program at the University of Nebraska-Lincoln. He graduated magna cum laude from Harvard College with an AB in visual and environmental studies and received a Master of Architecture from U.C. Berkeley.
At the University of Nebraska, Day runs the Fabrication and Construction Team, an award-winning, academic/professional collaborative design lab that offers architecture students a forum for exploration of the complex relationships between thinking — conceiving, designing, theorizing — and making. The team is a "do-tank," a lab in which ideas and new knowledge are developed through action as well as thought. Working with Actual Architecture, the team engages design intensive projects and creative, non-profit clients in collaborations that span design and construction. The team won the inaugural 2013 ACSA Design-Build Award and the 2016 ACSA Collaborative Practice Award. With Min Day, Day has won over 85 AIA awards, ACSA awards, and other honors including the 2007 AIA California Council Emerging Talent award, the 2009 New Practices San Francisco award, California Home & Design's Ten to Watch in 2009, Residential Architect's 2010 Rising Star Award, Architectural Record Magazine's 2009 Design Vanguard feature, and the 2016 Emerging Voices award from the Architectural League of New York. Recently he has worked to expand the practice with the formation of mdMOD furniture.
Day, Actual Architecture Company and the Fabrication and Construction Team were winners in the Journal of the American Institute of Architects 66th Annual Progressive Architecture Awards in February 2019. Out of nearly 200 unbuilt submissions, a jury of architects selected 10 winners that showcase innovative design from established heavyweights and fresh new perspectives.