April 2, 2019
Guest pianist Koeun Grace Lee to present recital at All Faiths Chapel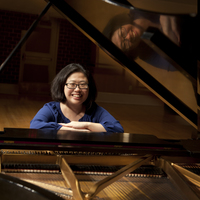 Pianist Koeun Grace Lee will present a guest artist piano recital at 7:30 p.m. Tuesday, April 2, at All Faiths Chapel. The recital is free and open to the public.
Lee will perform "Go-Hyung (Ancestral Home)" by David Burge, "Five Pieces for Piano" by Isang Yun, "Toccata" by Robert Schumann, "Sonata No. 27 in E minor" by Ludwig van Beethoven, and "Variations Op. 41" by Nikolai Kapustin.
A native of South Korea, Lee is an avid performer, educator and lecturer. She is currently on the piano faculty at Brevard College, Mars Hill University, and the Academy for the Arts at First Baptist Church in Asheville, North Carolina. She has presented numerous lecture-performances at conferences of the College Music Society in the U.S. and South Korea. She has been a featured performer at the Composition in Asia International Symposium and Festival. Her recent appearances include recitals at the University of South Florida, Furman University and Jacksonville University. This season, she made her debut with Pan Harmonia, Asheville's award-winning chamber music repertory company. Lee is a frequent solo concert artist at the Asheville Art Museum Pianoforte Series. She will be the pianist for "The Songs of Florida Composers" CD project later this year.
Lee's residency at Kansas State University is co-sponsored by the K-State Libraries' Dow Center for Multicultural and Community Studies, the College of Arts and Sciences Diversity Lecture Series, and the School of Music, Theatre, and Dance.