April 2, 2019
Run Fasta Eat Pasta 5K Run/Walk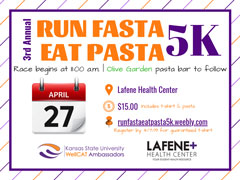 The WellCAT Ambassadors will host the third annual Run Fasta Eat Pasta 5K run and walk at 11 a.m. Saturday, April 27, at Lafene Health Center.
Run Fasta Eat Pasta is a timed 5K run/walk starting and ending at Lafene Health Center with a route through K-State's campus. Immediately following the race, participants are invited to enjoy a free pasta bar catered by Olive Garden.
​
The WellCAT Ambassadors are dedicated to the advocacy for overall health and well-being of students and the community. We hope that the Run Fasta Eat Pasta 5K will build community with those who we are educating, and more specifically, allow us the opportunity to build relationships and establish trust with those who we serve.
Special thanks to Olive Garden, the Dow Center for Multicultural and Community Studies at K-State Libraries, Dunkin' Donuts, and Lafene Health Center for making this event possible.
Registration is $15. Register online at runfastaeatpasta5k.weebly.com. Register on or before April 7 to receive a race T-shirt.
If you are not interested in participating in the race, but would like to be involved as a volunteer, please email Holli Woodyard at hollilee21@k-state.edu. Volunteers will receive a donut and coffee breakfast, a volunteer T-shirt, and are welcome to enjoy the Olive Garden pasta bar.