March 26, 2019
Tickets for lecture by 'The Hate U Give' author Angie Thomas available on April 2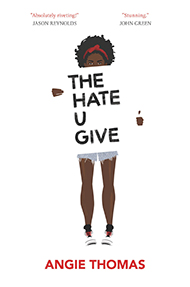 "The Hate U Give" author Angie Thomas will give a lecture on Thursday, April 11, at Kansas State University and tickets will be available for pick up on Tuesday, April 2.
The April 11 event is at 7 p.m. in McCain Auditorium. The lecture is free and open to the public, but tickets will be required and must be picked up in person. University students, faculty and staff will be able to pick up an individual ticket from the McCain box office with a valid K-State photo ID beginning Tuesday, April 2, until all tickets are distributed. The McCain box office is open from noon to 4 p.m. Tuesday to Friday.
Community members will be able to pick up individual tickets at the Manhattan Public Library from a limited number provided to the library beginning 9 a.m. Tuesday, April 2, until all tickets are distributed.
Overflow seating will be available where visitors and members of the university and community can watch a live video stream of Thomas' lecture. Overflow locations will include the Cottonwood Room and the Flint Hills Room in the K-State Student Union, the Manhattan Public Library auditorium and the Great Plains Room at the K-State Olathe campus. Additional overflow locations will be announced in advance of the lecture.
To reserve seating for a group of 10 or more in one of the overflow areas, contact ksbn@k-state.edu by Tuesday, April 9. The K-State Book Network, or KSBN, will then confirm the reservation and provide additional directions. Other questions about the event may be directed to the KSBN email address.
Thomas, author of Kansas State University's 2018 common book "The Hate U Give," will talk about activism and the themes of her best-selling novel during her lecture, "The Hate U Give: Finding Your Activism and Turning the Personal into the Political."
"The Hate U Give" is an award-winning novel that has been adapted to a major motion picture movie. Thomas recently published her second novel, "On the Come Up."
Read more about Thomas' visit.
Thomas' talk is co-sponsored by the K-State Book Network, or KSBN, the Diversity Programming Committee and the English department's student honorary society, Sigma Tau Delta, among others. For more information about the K-State Book Network, visit k-state.edu/ksbn.