March 26, 2019
K-State alumnus and Vanderbilt doctoral student to speak about exoskeletons and prosthetics
Submitted by Alexandra Davidson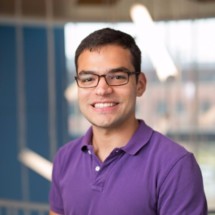 The K-State Engineering in Medicine and Biology Society will host Andrés Martínez, doctoral student at the Center for Rehabilitation Engineering and Assistive Technology, or CREATE, at Vanderbilt University for a talk from 6-7 p.m. Thursday, March 28, in 93 Engineering Complex.
Martínez will discuss his path from K-State to Vanderbilt and about some of the exciting research on exoskeletons, powered prosthetics, and motion capture being conducted at CREATE. Martínez currently works in rehabilitation robotics, wearable technology and biomechanics.
He has bachelor's and master's degrees in mechanical engineering from K-State and is only a few months away from receiving his doctorate in mechanical engineering from Vanderbilt.
Directions: The room for the talk, 93 DUE, is just inside from the rain garden entrance to the engineering building — off College Heights, between Denison Avenue and 17th Street, across from Ahearn Field House. Alternatively, you can go in the Radina's entrance off 17th Street and College Heights, across from Seaton Hall. When you come inside you will see a large white staircase that goes up on the left and down on the right. Go down the stairs and the room is just to the left of the exterior door to the rain garden if you are standing at the bottom of the stairs.