March 22, 2019
Opportunity to join student Men's Engagement Group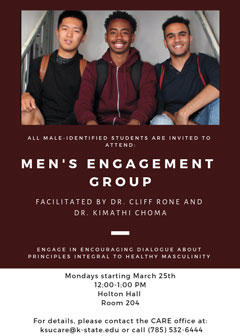 Cliff Rone, licensed psychologist, and Kimathi Choma, assistant dean for diversity, recruitment and retention in the College of Arts and Sciences, will co-facilitate the Men's Engagement Group, a multidimensional dialogue open to all male-identifying students.
The group will meet from noon to 1 p.m. Mondays starting March 25 in 204 Holton Hall.
This six-week program will encourage participants to critically examine their own masculinity as it relates to the K-State campus, to broadly explore the connection between toxic masculinity and sexual violence, and to replace harmful, stereotypical preconceptions about masculinity with a positive connection to healthy self-narratives.
The program hopes to create a space that encourages self-judgment reduction, promotes self-compassion, and gives students a chance to build community with a diverse group of fellow K-State men.
If you would like more information about this program and its expectations, please email the Center for Advocacy, Response, and Education at ksucare@k-state.edu, or call 785-532-6444.